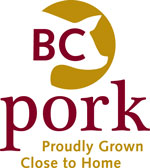 We hope you take a little time to learn more about our industry, the producers and the high quality products produced in British Columbia.
This industry is not a big one, producing only about 10% of the pork consumed by British Columbians, but it is significant and different from those in other regions. Thirteen family farms carefully raise pigs to high standards for specialty markets in BC, whether for local butchers, independent grocers or your favourite restaurants.
As a consumer, asking for BC Pork products ensures that you are taking home to your family pork of high quality that is fresh, versatile and delicious!
BC PORK…HIGH QUALITY, SPECIALTY PORK PRODUCTS, PROUDLY GROWN CLOSE TO HOME